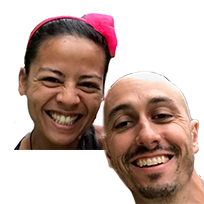 ---
My name is Nathalia, I have been animating for 10+ years in TV productions, some movies and games. Me and my husband have been working from home for 7 years, providing animation services to clients all over the globe. 
I am hoping to be part of the 3d animation team, to animated any 3d model according to storyboard and directors input. I am also planning to support any fields that correlate with animation like basic rigging 3d models.
---
My name is Caleb Lemotte, I am a character animator with 10 years experience in the field. I've worked in a broad spectrum of the industry, including, TV, Commercials, Film, Games and Motion Capture. I've also worked with many variety of studios from across the globe. I've learned that cultural values and customs are strongly present in the studios and in the work they create. My experience gives me a broader view regarding not just animation and entertainment, but of how people work, how they collaborate and how we as humans gel together.
I'm excited to engage my skills to collaborate and create appealing and distinct animation with Mintprint LLC. Every studio, every gig, every episode, and even every animated shot is different. There's endless opportunity to round out our craft and bring entertaining pleasure to the viewers. MintPrint is another engaging opportunity to grow as an individual artist, but more so, to grow into a Team and create something unique and beautiful.